freight
Steel  Interstate Newsletter
Vol. 2,  No. 1
 February 1, 2017
Welcome to the RAIL Solution railroad industry update.  In this periodic communication we attempt to keep you informed of key developments and place… Continue reading →
Inland ports needed to increase the use of rail in the Norfolk Southern Crescent Corridor Valley Route in TN and VA
Nationally, more inland ports (terminals) are needed to extend the use of rail, reduce the number of trucks on… Continue reading →
Lynchburg Train Derailment – April 30, 2014
Wednesday's train derailment is the 6th derailment in the last year in the US and Canada involving a tanker carrying crude oil.
This is not a new problem, but one that is fraught… Continue reading →
Remind Virginia transportation leaders:
We want rail freight improvements & passenger service!
Thursday, November 14, 2013
Holiday Inn Staunton Conference Center
152 Fairway Lane
Staunton, VA 24401
Representatives from the CTB, VDOT, Virginia Department of Rail and Public Transportation (DRPT),… Continue reading →
The 2013 Commonwealth's Office of Intermodal Planning and Investment has released its  Draft Virginia Multimodal Freight Plan which is now available for review through November 15, 2013.
This is the Commonwealth's strategy to improve goods movement on its highway,… Continue reading →
David Fos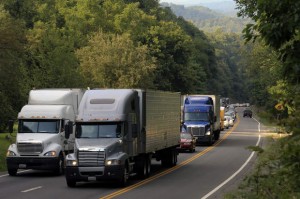 ter (our Executive Director) wrote an insightful letter to the Editor of the Roanoke (VA) Times on Friday, September 6, 2013, extolling the advantages of increased intermodal freight rail services to improve the often overcrowded highways in southwest… Continue reading →
Aug. 23, 2013
Apparently Senator Mark Warner (D-VA) would like to get more trucks off of Interstate I-81 and on to the parallel railroad.
Senator Warner was in Roanoke recently and, among other business Warner met… Continue reading →
It appears that Rep. Duncan (R-TN), chair of the House Panel on Freight Transportation, agrees that it is the goal of almost everyone in transportation to emphasize rail and water transportation "a bit more,"  as reported by the DC.… Continue reading →
May 13, 2013
RAIL Solution submitted testimony to the House of Representatives special Panel on 21st Century Freight Transportation headed by Congressman John Duncan (R-TN 2nd) to promote the Steel Interstate concept as an essential part of the… Continue reading →