The Virginia Commonwealth Transportation Board (CTB) is hosting nine public meetings across
the Commonwealth to discuss projects and programs in the CTB's current Six-Year Improvement Program.
The last scheduled meeting is Thursday, November 21, 2013.
(See the meeting schedule here.)
UPDATE:
A seven-mile section of Interstate 81 in Roanoke and
Botetourt counties added to the VDOT study area.
VDOT CITIZEN INFORMATION MEETING FOR EXPANDED ENVIRONMENTAL STUDY ON INTERSTATE 81
SALEM — The Virginia Department of Transportation (VDOT) held a citizen information meeting on June 26, 2013 to gather public input on the environmental study being conducted for Interstate 81 in the Roanoke and New River valleys. VDOT launched the Tier 2 Environmental Assessment of the I-81 Corridor Improvement Study for the section of I-81 between exit 118 (Christiansburg) and exit 143 (Roanoke) last fall, but in April 2013 added an addition seven miles to extend the study from exit 143 north to exit 150 (Troutville).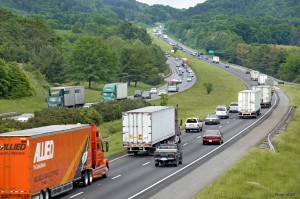 Widening of Interstate I-81 … Again
Feb. 15, 2013
The Virginia Department of Transportation is once again considering widening Interstate 81. VDOT's six-year plan consists of a 1,000-foot corridor on either side of the centerline of 325 miles I-81. The current proposal is for the first of eight proposed segments, 25 miles between Exit 118 near Christiansburg and Exit 143 to I-581 at Roanoke, Virginia, and was recently opened for comments for two weeks. Studies for the other segments are scheduled to be presented later.
RAIL Solution submitted comments and, among other things, strongly disagrees with the notion that widening a 25-mile stretch of I-81 can be carried out independently of the rest of the I-81 Corridor. Changes here will undoubtedly affect the entire I-81 corridor, in Virginia and beyond.
VDOT is basing their argument for these changes in part on data which is now almost 10 years old. The figures used include truck volume projections based on a time of much lower diesel prices, and without acknowledgement of today's chronic driver shortage, the diversion of significant long-haul freight shipments to rail, and recent rapid rises in fuel costs which result in lower vehicle-miles traveled. This out-of-date information misrepresents future traffic volume in favor of more highways.
There is also no apparent consideration of the importance of improvements in areas where high crash rates have been documented. Any improvements considered for the I-81 Corridor should address safety as one of the highest priorities.
RAIL Solution is strongly urging VDOT to update their information on traffic volume, fuel prices, vehicle-miles traveled, traffic counts, highway safety, the diversion of truck traffic to rail, funded rail improvements data and the potential for rail to handle significant truck traffic from the highway before making any road construction decisions. Decisions based on incorrect and out-of-date information would cost Virginia taxpayers billions of dollars in unneeded costs and cause citizens of the Corridor to shoulder the drastic disruption and environmental damage inherent in unneeded road building.
Comments by RAIL Solution submitted to VDOT  on the proposed
widening (SIU#4) of I-81 between Exit 118 & Exit 143:  [PDF]
Share This
Follow Us