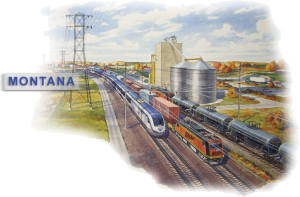 Some specific ways in which the Steel Interstate Rail Plan addresses
the Rail Plan vision for service to cities, towns, and regions:
► Regional Corridors: The Steel Interstate Sysytem (SIS) network, as conceived by RAIL Solution, connects all sizes of communities across America. The SIS serves both freight and passenger traffic on the same systems at speeds from 60 to 115 mph. Thus, both freight and passenger traffic will be served on a national network connecting all cities because of the fact that rail freight must connect most American towns and cities. The system will interconnect with the high speed passenger rail systems. However, the HSR will be a separate system from the SIS.
► Emerging/Feeder Routes: The SIS network will utilize much of the existing rail system to connect smaller communities and more distant areas, thus providing access of these areas and communities to the larger network.
► Community Connections: The SIS will provide a lower cost option for higher speed passenger rail, for quicker and safer travel from outlying areas to major hubs for air traffic, and compete head-to-head with airlines and automobiles for intermediate distance passengers, traveling distances between cities up to 500 miles.
The SIS Prototype Demo will show the viability and economics of the total Steel Interstate System by
demonstrating these features in the selected rail corridor, a part of the Norfolk Southern Crescent Corridor.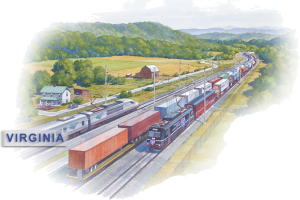 Share This
Follow Us