RAIL Solution was formally organized in Virginia in 2003 primarily to oppose the proposed increasing of the size of primarily rural Interstate I-81 highway into a truck tollway with four exclusive truck lanes.  Much has been accomplished since our founding.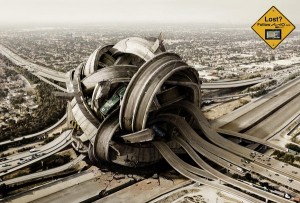 STAR Solutions, a construction consortium headed by Halliburton's KBR subsidiary, then proposed to privatize I-81 across its 325 miles of western Virginia and rebuild it as an 8-12 lane truck toll-road.  Citizens felt that the giant project was much too costly, both environmentally and economically, and that equivalent truck-carrying capacity could be furnished by upgrading the Norfolk Southern rail line parallel to I-81 at far lower dollar cost and environmental impact.
During public comment periods, thousands of residents turned out in support of the RAIL Solution vision, submitting oral and written statements favoring rail and opposing tolls.  In spite of STAR's strong backing by the highway engineering and construction lobby, as well as state and federal politicians, more sensible citizen viewpoints prevailed.  The dedicated truck lane concept failed to pass muster in the Purpose and Needs review done as part of the I-81 Environmental Impact Statement and STAR could not deliver on the promised hundreds of millions in federal funding for its "demonstration" project.
Today a saner I-81 policy prevails in Virginia. Limited available funding will target safety issues and capacity choke points, but rail will be relied on for new long-term freight-carrying capacity.
We emphasize balanced transportation planning, with a leading role for railroads. The time has passed when every problem of congestion and growth can be solved with more lanes of highway. Proper, balanced transportation decisions are vital to preserving the natural environment, ensuring our quality of life, and providing sustainable economic opportunity for Virginia and the nation.
  §
From our founding in early 2003 to our victory over STAR Solutions in December, 2007, RAIL Solution operated pretty much in a continuous crisis mode.  The struggle with STAR sapped much of our strength and attention.  We knew that opposing their plan was not enough.  Anyone can be a "NIMBY."  We had to have something strong and positive to propose as an alternative.  We believe strongly that a double-tracked, upgraded rail line parallel to I-81 can move the projected freight volumes at lower cost, both economically and environmentally, than STAR's "Concrete Freightways" scheme, which was projected to cost $13 billion.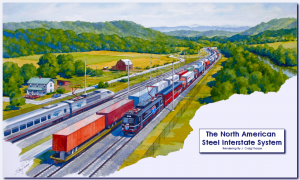 We were already proposing a super-railroad as an alternative to doubling the size of a super highway.  Once STAR was out of the picture, we had more time  to pursue a better rail system advocacy.  At that point we spent more time defining the super-railroad concept, borrowing from Gil Carmichael's "Interstate II" concept but renaming it more descriptively "Steel Interstate" and devising a Steel Interstate logo to brand it. Several versions of our Steel Interstate white paper followed, and later the Steel Interstate website, both with the purpose of detailing the concept and its many compelling advantages.
RAIL Solution offers the Steel Interstate railway system as the best alternative for moving passengers and freight for 21st Century America.

RAIL Solution is a not-for-profit, non-partisan, citizens grassroots advocacy organization with
over 1,400 individual participants and a coalition of allied organizations.
RAIL Solution is non-commercial and has no relationship with any railroad or transportation company.
Share This
Follow Us