The route RAIL Solution has chosen for the demonstration of the Prototype of the Steel Interstate System (SIS) is a part of the existing Crescent Corridor of the Norfolk Southern Corporation, which covers the territory from the Southeast to the edge of the Northeastern Mega-region.  That route is depicted in Figure 1.  This is an underserved rail corridor despite the fact that it has some of the highest levels of heavy truck traffic in the United States.  Much of this is due to the fact that much of the rail system was laid out in the 1800s and is single-track and winds through the center of villages, towns, and cities. There are 15 grade crossings in Morristown, TN, (pop. 29,000) and five in Abingdon, VA, (pop. 8200), for example.
The Valley Corridor Prototype Demonstration route southern terminus is near Memphis, Tennessee at the Norfolk Southern Memphis Regional Intermodal Terminal in Rossville, in Fayette County, Tennessee.  The route links consecutively South to North the following cities:
►    Huntsville, Alabama
►    Chattanooga, Tennessee – links to Birmingham, Shreveport, Dallas, Nuevo Laredo, Mexico and Atlanta
►    Knoxville, Tennessee – links to Lexington, KY; Cincinnati, Louisville and Ashville, NC
►    Bristol, TN-VA – links to Kingsport, TN and I-26, which links to Asheville, NC
►    Roanoke, Virginia- link to Heartland Corridor which runs east and west through Roanoke to the port of Norfolk and to Richmond, VA (mid-way between Bristol and Roanoke, I-77 at Wytheville, VA, links to Charlotte, Winston-Salem, Greensboro, Durham, and Raleigh to the southeast and Charleston, WV, to the north.
►    Front Royal, VA- link to Manassas, VA with service to Washington, Baltimore
►    Hagerstown, MD- rail and highway links to multiple directions from intermodal terminal at Greencastle, PA, serving New York City, New Jersey, Albany, and New England and Montreal, Canada, Philadelphia, Wilmington, and Trenton.
►    Harrisburg, PA- similar links to Greencastle, PA, facility
The route will parallel as closely as feasible the Interstate Highway System routes 1-40, I-75, and I-81, which carry some of the heaviest loads of truck freight traffic in the U.S.  The chosen route, superimposed on the interstate highway routes, is shown below.
Valley Steel Interstate System Demonstration Route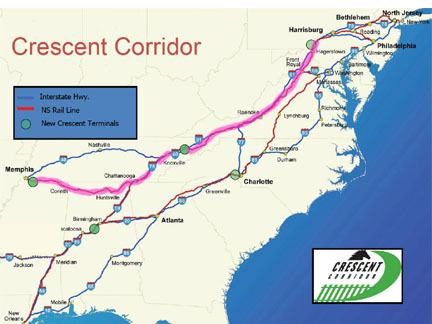 The region overlay below includes all of geographic region served by the proposed Valley Corridor.
Region Served by Valley Corridor [1]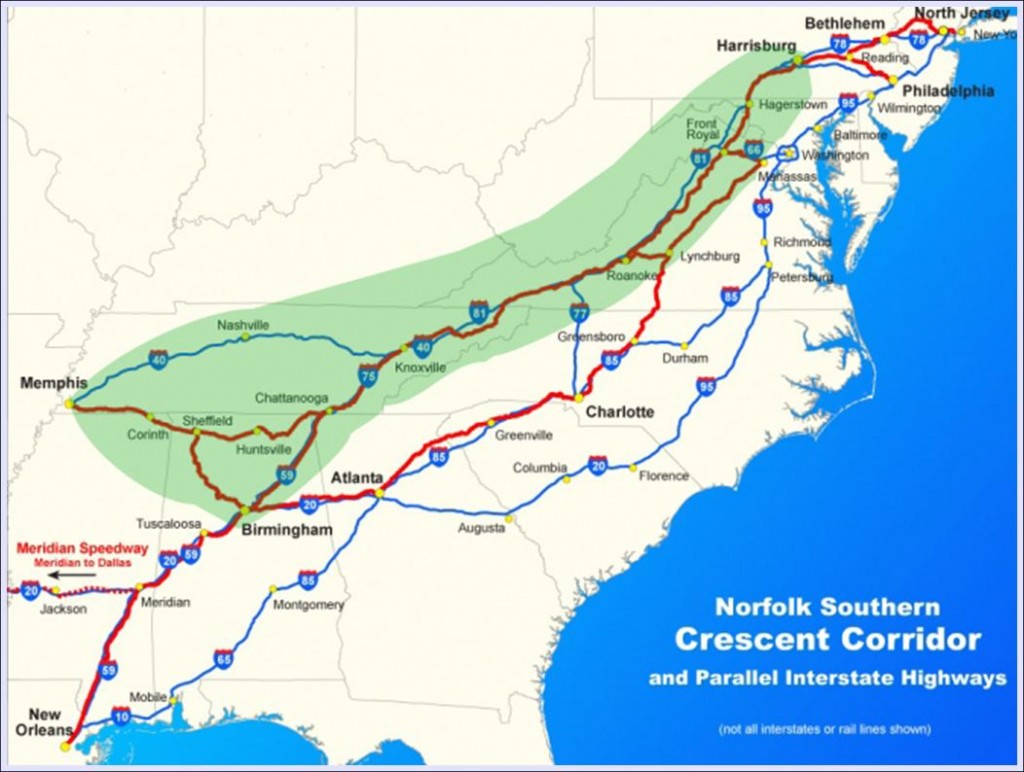 Valley Prototype Demonstration Route and Interstate Highway routes
The rail lines will be upgraded to at least two tracks providing bi-directional train traffic, elimination of grade crossing, frequent crossovers from highways and other modes to accommodate general freight, intermodal rail, and passenger traffic at highway-competitive speeds, and positive train control to ensure safe operation. Intermodal freight terminals are being built and planned for the route, and additional loading locations will be provided for loading of trucks onto trains at closer intervals.
The operating speed design criteria will be as follows:
Freight train speed range: 60 to 75 MPH, with target average point-to-point speed of 60 MPH
Intermodal train speed range: 70 to 90 MPH, with target average point-to-point speed of 70 MPH
Passenger train speed range: 79- 115 MPH,  with target average point-to-point speed of 90 MPH
The target average point-to-point speed includes the time for stops, changing tracks, and other operational slow-downs that decrease the overall system average speed.
Features that make the route attractive for demonstration include:  its service to a region that is underserved by intermodal freight, parallel interstate highways that are crowded with truck freight, a large volume of potential truck freight that can be attracted to intermodal rail, 1000 mile length, and intersection with other feeder lines, hubs, and highways.  This provides an excellent prototype demonstration route where attractiveness to both long range and mid-range trucks can be tested.
The route chosen offers the potential for passenger service both within the demonstration route and through connections from the demonstration route to large cities and hubs at reasonably short distances.
---
[1] Maps taken from Presentation, Roger Bennett, Director or Industrial Development, Norfolk Southern Corporation, Norfolk Southern – Intermodal Future to Transportation Research Forum, Washington, DC Chapter, October 20, 2010.
Share This
Follow Us