Welcome to RAIL Solution
An organization dedicated to promoting better, more efficient, more
environmentally responsible and more effective transportation, with emphasis on
expanding and improving freight and passenger rail systems.
RAIL Solution is a grassroots advocacy group with over 1,400 individual supporters and a coalition of allied organizations. We emphasize balanced transportation planning, with a leading role for railroads. The time has passed when every problem of congestion and growth can be solved with more lanes of highway. Proper, balanced transportation decisions are vital to preserving the natural environment, ensuring our quality of life, and providing sustainable economic opportunity for Virginia and the nation.
We promote railroads as a safe, clean, efficient carrier of freight and people, and this long-term vision to employ faster, upgraded rail service in concert with targeted highway improvements. Our transportation plan promotes public health and safety while preserving the financial, environmental, and cultural integrity of our homes, farms, businesses, and communities.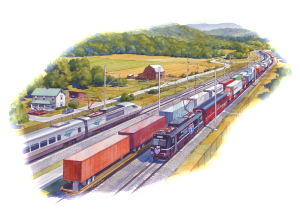 RAIL Solution is a not-for-profit, non-partisan, citizens grassroots advocacy organization.
RAIL Solution is non-commercial and has no relationship with any railroad or transportation company.