Welcome to RAIL Solution
An organization that promotes more efficient, more environmentally responsible and more effective rail transportation, with emphasis on expanding and improving freight rail systems.
RAIL Solution promotes the establishment of a North American Steel Interstate System, an upgraded core network of North American railways, operated for profit by private enterprise, with grade-separated, multi-tracked, electrified infrastructure that achieves highway competitive speeds and significantly increases the reliability, accessibility, and capacity for moving freight and passengers, and that strengthens the economy and protects the environment by creating an oil free, safe, efficient, cost effective, low impact, intermodal backbone of the transportation system.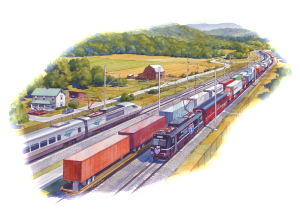 RAIL Solution is a not-for-profit, non-partisan, citizens grassroots advocacy organization.
RAIL Solution is non-commercial and has no relationship with any railroad or transportation company.
Share This
Follow Us